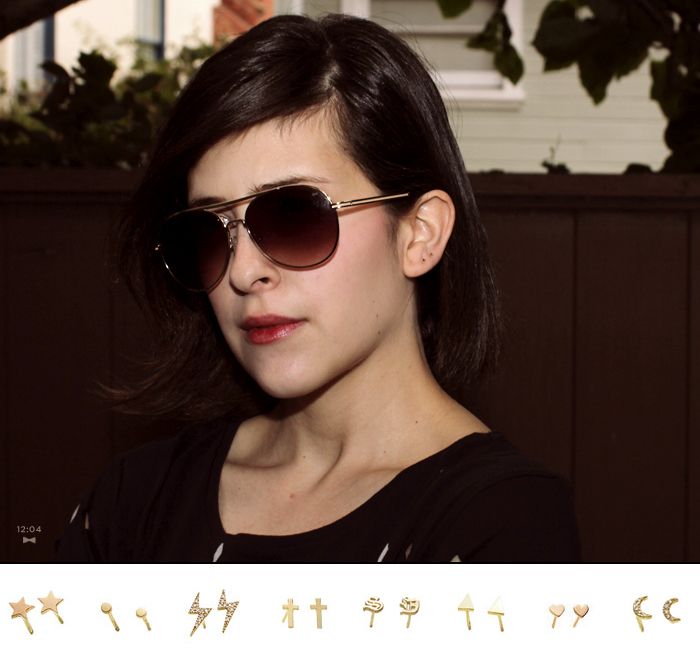 Jennifer Fisher mini mini triangle earrings
,
Ksubi tee
, aviators (
similar here
)
Tiny earrings that are almost invisible to the eye until a glimmer of light hits the precious metals just right. It turns out these gold
Jennifer Fisher Mini Mini earrings
are harder to shoot than I ever thought. I'm wearing the triangle ones, but it's hard to tell without violating your personal space and giving you an extreme close up of my ear lobe. So I spared you, and instead choose to write about my love for these in plain words accompanied by a single photo taken at an appropriate distance.
"Why even bother with such tiny pieces of jewelry" some have asked me.
Well, I say, it's because they're completely charming. You hold them in your hand and they are just so intricately crafted (and
small!
) that you start to wonder how mixing and matching all these shapes will look.
They are just the right size for multiple pierced ears. And in
true
Mexican form, I had all six of my ear piercings done when I was a wee baby — obviously not my idea, but in retrospect a stroke of genius on my aunt's behalf.
Seeing how beautiful the gold looks you will start to wonder how beautifully quirky the diamond lighting bolts will shine.
In a word, they are perfect. My expectations for minimal, feminine, and modern are met and depending on which you go for, they won't break the bank. The traingle mini mini's are just $100 for 14k gold.