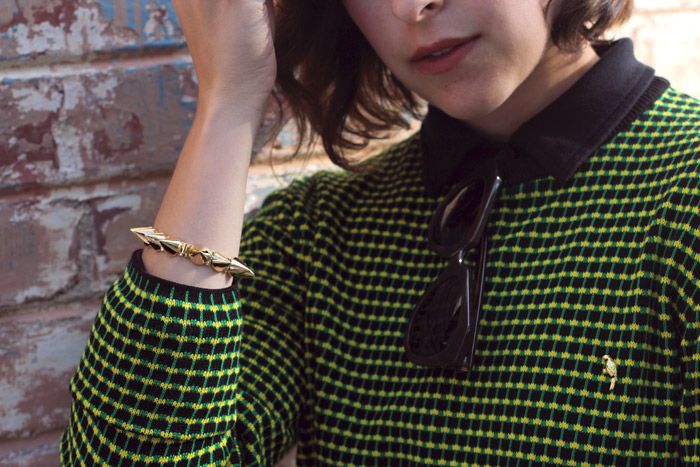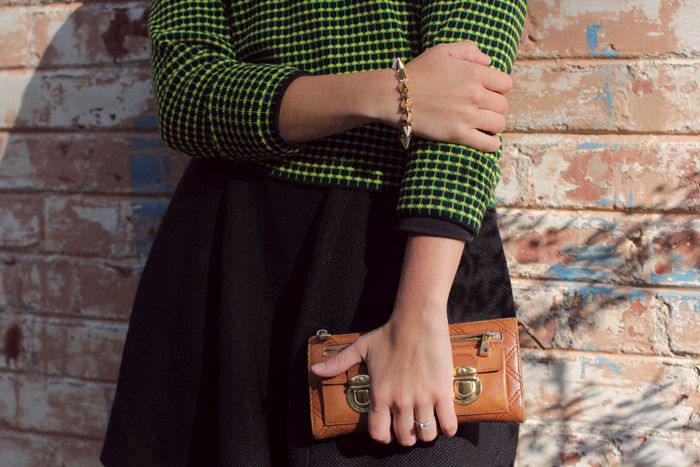 Kenzo

sweater

,
J. Crew
polo,
Karen
Walker
sunglasses
,
Surface to Air skirt
,
Barney
s
boots
,
Marc
Jacobs
quilted wallet
,
ASOS
spike bracelet
The perils of indulging in the easiness of a black on black ensemble include constantly being mistaken for a server in restaurants or a girl working retail. True story.
And no matter how chic the outfit looks in real life or how bubbly your personality may be, the overall mood could seem a bit melancholy and antisocial. The uneasy glances of people thinking, "now that girl has
real
problems" or even worse "she must be a
real bitch.
"
The problem is that dressing in vibrant colors takes work, and I've managed to convince myself that it's just easier on crazy days to rely on some good ol' monochrome black. Sure, it looks refined, and yes, it'll always be chic, but the recent influx of color have inspired me to change for the brighter. So I'm taking a baby step approach and adding it in small doses. Which brings me to the topic of Kenzo Paris. They're all about classic silhouettes revitalized by an electric pop of color, pattern, and print. Seeing the runway looks makes me want to suddenly be
that
girl. All that black will be a tough habit to break, but I'm pretty content with this as a start.