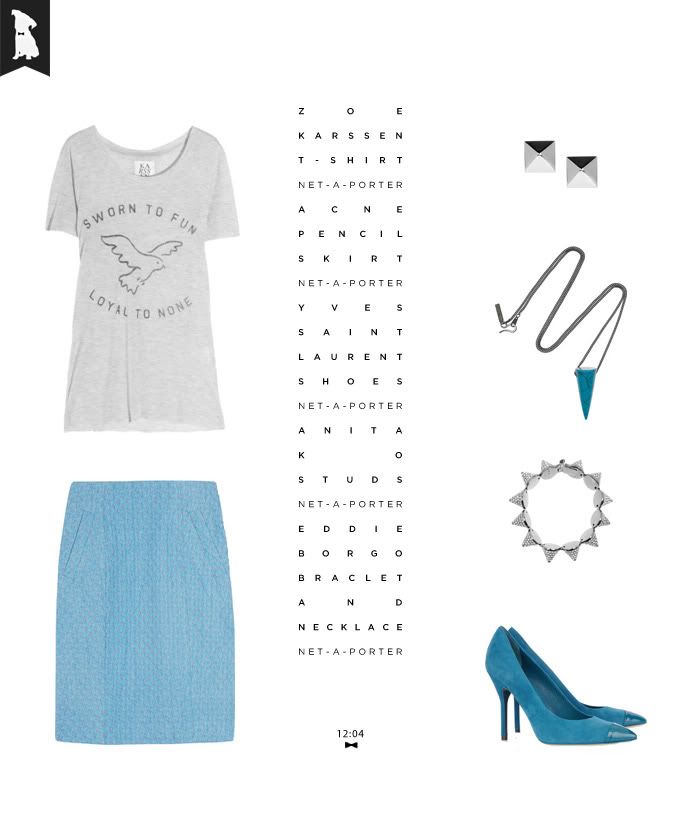 I recently discovered the
tao of
Zoe Karssen
and her graphic tees. Yes, graphic t-shirts. As in the ones from junior high that haven't been in my closet for years. Vintage band t-shirts, gym shirts....witty sayings. But
this
, this I like. I think I'll make it
my new mantra: sworn to fun, loyal to none
.
Amazing. Simple.
In all reality, I'm a 100% subscriber of Conan's
"Work hard and be kind"
mantra, but sometimes the industry you're in doesn't play by these same rules. So I'll subscribe to Conan's way of doing things and wear something a little more selfish, liberating,
awesome
to get by
.
I'm putting on this
Zoe Karssen tee
with a fantastically textured jacquard
Acne pencil skirt
and coordinating
Yves Saint Laurent cap toe pumps.
Piling on the
Eddie Borgo cone bracelets with pavé crystals
and a
gunmetal and turquoise necklace,
and finishing the look off with minimalistic pyramid studs by
Anita Ko
, who is another absolute favorite of mine.