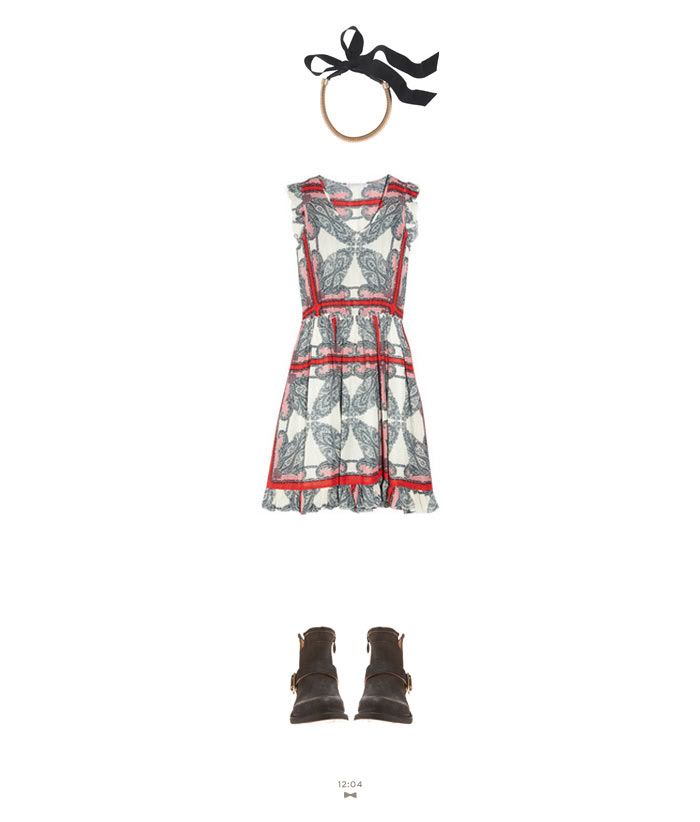 This is what I'd be wearing
if
I was at SXSW this weekend. Alas, I was not there. In my industry (advertising) only the few and the proud (not unlike the Marines) get to go. But a girl can dream, can't she. I read that
Fiona Apple was playing there
(!!). But you know what? I can at least mentally prepare for what it would be like by lining up a sweet little cowgirl-like outfit like this. The highlight of it is a
choker by Lanvin
with black ribbon ties. It's naughty
and
nice. Who knew! The
dress is by Paul & Joe Sister
, the epitome of cutesy. While this brand tends not to be friendly to shorter females, like myself — I proudly hover just at 5'3", they are worth taking to a tailor because the fabrication and the prints are fabulous. Finally, the boots. They are by
Fiorentini + Baker
, one of my personal and absolute favorites. They do tend to break the bank, I'm sorry, but they are totally worth it. So,
not sorry.
I own a pair very similar to these and they are a work horse of a boot that look better the worse you treat them. Beat them like the horse that they are! Don't be shy!
I'd accessorize with these sweet lassies. A rather dainty yet punk-inspired
Philippe Audibert spike bracelet
in a sweet rose gold. A classic pair of
Stella McCartney aviators
, and
a completely appropriate
Aurélie Biderman Hook 'Em Horns ring
.