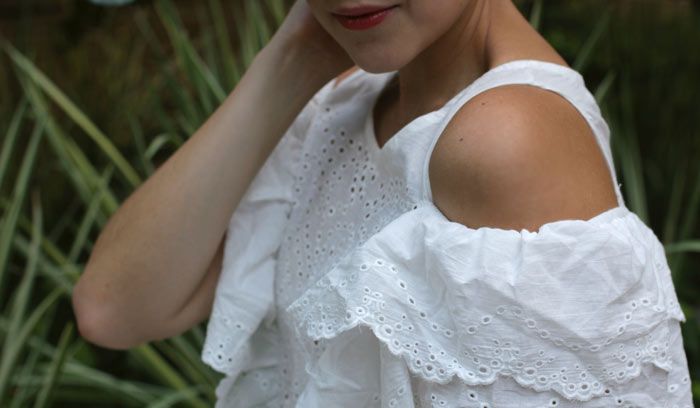 Wearing
: Minusey dress,
Karen Walker Number One sunglasses
,
Kathleen Whitaker earrings
(
courtesy of Kathleen Whitaker
),
Beauty
:
YSL lip gloss stain in #7 Coral Aquatic
,
YSL cream blush in #2 Powdery Rose,
Anastasia brow pencil
It's only my second time in the Tarheel State, but this time around it felt so familiar. For one thing I got around to bringing the right amount of layers, which is not very many when you factor in the heat and humidity. My favorite accessories here are the AC in the car and the refillable water bottle by your side (recycling is not a big thing here...yet? Fingers crossed). I packed a suitcase of easy dresses, nothing too form fitting, and a variety of flats. Make up was simple: a little blush, neutral earthy colors for the eyes, and a little bit of lip gloss stain. Packing this light meant slipping into a whole new routine, a whole new
fast
routine, one that surprisingly carried over to my life in the Bay Area; Less is more. Even my hair is 100% natural here, having forgotten my Bumble and Bumble products. Yes, there may be time for extravagance, and layers, and make up, and HD correcting powder (
for real
), but for the most part getting dolled up should be this simple. I get it now, North Carolina. I sincerely thank you for teaching this city girl, raised in LA and grown in Berkeley, a valuable lesson.
Photos by Nick Smith